ICE recommends to its customers to always be vigilant regarding fraudulent bills that may be in circulation in the country of your travel destination. Here is a good example in Brazil.
Update
Banco Central do Brasil has announced today that at the end of August it will issue a banknote of 200 Reals (BRL200.1). This will be the highest denomination in circulation.
A total of 450 million of these notes will be printed this year. It will show the Guará wolf. The actual design of the note will be made public shortly before the release date.
Fun Fact
It turns out that the "guará" wolf that will appear in the new banknotes of 200 Reals (BRL200.1) is not a wolf at all.
Its scientific name is Chrysocyon brachyurous, a species which does not belong to the genus Canis (dogs, wolfs, jackals), or Vulpes (foxes). It is up to 1 meter tall and weighs some 50 pounds. Its diet is composed of large quantities of fruit, plus birds, insects and small mammals.
The guará wolf was chosen for the 200 reais note because it is a species in risk of extinction.
Beware of Fake Banknotes
According to several sources, enterprising forgers are passing "fantasy banknotes" of 200 Reals of "private design" before the real ones are issued.
Before the Banco Central do Brazil issued the circulation of the true banknotes, these forgeries, most likely a private design made in the style of the current family, were being passed to the unsuspecting public.
Although the new reais banknote contains security elements, which protects it from counterfeit attemps, the governement of Brazil enhances to its citizens and tourists the importance of verifying your cash upon receipt. You can learn about the security elements on the Bank of Brazil's website. Make sure you know how to differenciate counterfeit banknotes with the real 200 Reals maned wolf banknote.
Example of a Fake Banknote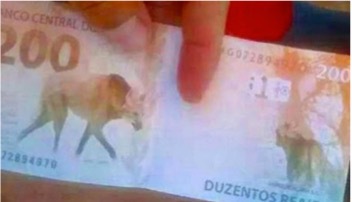 Banco Central do Brasil will issue to circulation the true banknotes shortly, but has not yet made public their design.