I recently spent a week in Los Angeles, California by myself. I visited many places like Santa Monica, Venice Beach, Beverly Hills, The La brea Tar pits in downtown L.A., Hollywood and Sunset Strip. While I did have an amazing week, there are things that I did notice and thought that sharing would greatly beneficiate any travellers looking to experience visiting the most glamourous city in the world. Here are five things to know when visiting the city of angels.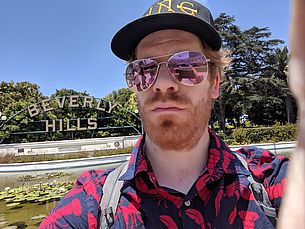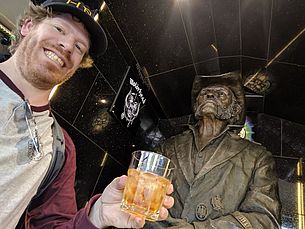 1. Los Angeles Is A Huge Agglomeration Uniting Many Neighborhoods
The city of angels is not a typical town in the way that it is mapped. Hollywood, Downtown, Venice Beach, Santa Monica, Malibu and many more are all different neighborhoods that are all part of Los Angeles. The commute from one place to another can range from a twenty minutes' walk all the way to a 3 hours' drive depending on your starting point. If you think you are able to visit Los Angeles all in a day, you might be in for a rude awakening. This is why I suggest that you study beforehand the places you want to visit and plan your travels. Speaking of travels which brings us to our next point.
3. Los Angeles Traffic Is Unbelievable
You might have seen it in movies, 10 lanes highways and still bumper to bumper traffic. I wish I could reassure you and tell you that it is not that bad, but it is. If you plan on renting a car, beware that depending on the hour of the day, you might be stuck in it for longer than planned. In addition to that, as lovely as the locals are outside of the roads, Angelinos are very impatient when driving and if you do not merge as soon as you get the chance, you will get honked at. They do, however, have a public transit system. It is still in its infancy so sometimes it might not be as fast, but if you are like me and love to sightsee, riding the bus for an hour will look as if it was twenty minutes and you will have been able to enjoy your ride, stress-free and admire the beauty and diversity that Los Angeles has to offer.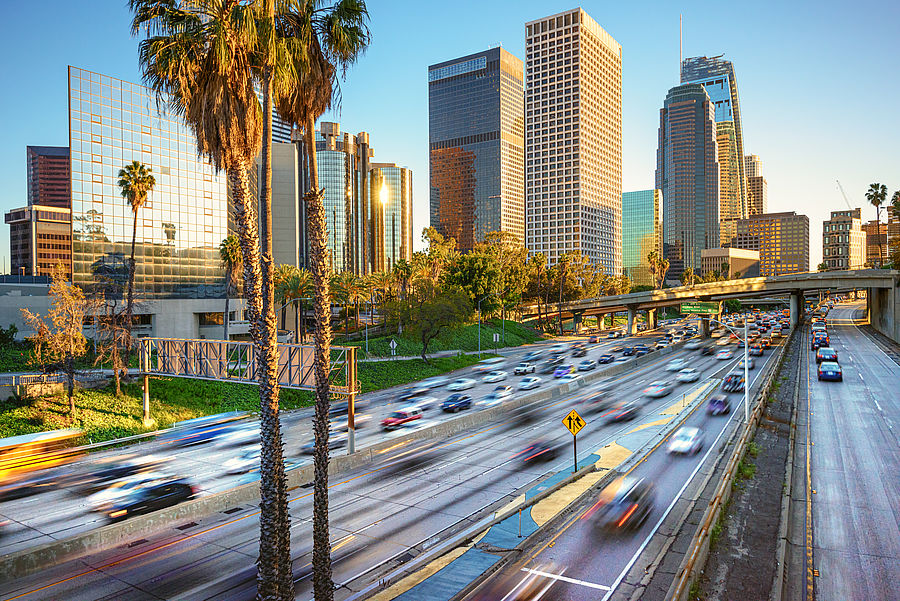 3. The Beaches Are Amazing
If you plan on going to Los Angeles, you have to visit its famous beaches. Whether you choose to go to the very crowded Santa Monica Beach, the eclectic Venice Beach or the luxurious and famous Malibu Beach, you will be able to soak up the sun and relax while listening to the wonderful sounds of the waves hitting the shore. I spent most of my time in Santa Monica myself, the beach was amazing, the waves were not to wild and the people were enjoyable and fun to hang around. Once I was done with the beach, I could walk up to the Pier which has a rollercoaster and Ferris wheel on it as well as many street performers and activities to do. Of course, if you want to feel like a true movie star, I suggest you go down to Malibu Beach where you will see tons of luxury cars and fancy houses. If you, however, want to surf and feel the action, Venice Beach is the place to go, you will meet tons of street performers (make sure you bring change as this is their only pay and they do it to entertain you, you can always get your money via our Click and Collect system which does let you pick which type of notes you would like to bring with you, eclectic people and good vibes all around. Even if you do not want to go to the beach in Venice Beach, you can just walk around the boardwalk and walk by the beach gym, the paddle tennis courts and the all famous skatepark.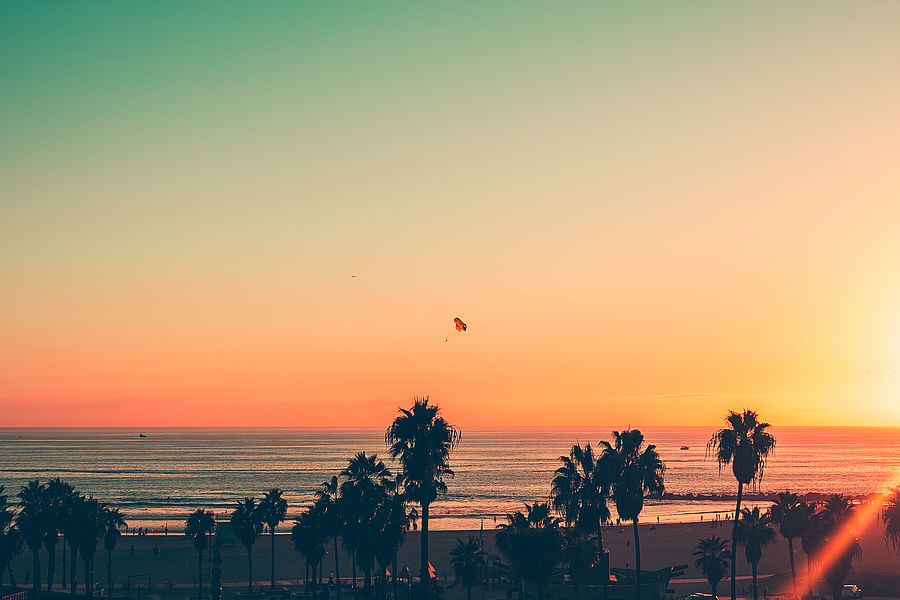 4. Beware Of Scam Artists
As in any big cities, there are always people trying to take advantage of tourists which is why I thought it would be a great idea to include a list of scams that I saw throughout my trip. None of them were very dangerous ones and you can easily get away from them as long as you are aware of what is going on. The main one I saw, mostly around Hollywood Boulevard and the Venice Beach boardwalk was a musician handing out physical copies of his music demos. They will stop you and let you know that they are free and ask for your name. Once you give it to them, they will sign it with your name on it and give it to you where they will finally ask for a donation (if they said it was free, they will mention that the signature was not). Usually, two or more of their friends will walk towards you and hustle you into giving them as much money as possible. It is not that hard to walk away from them, but it can be really intimidating. My advice (and it worked perfectly fine) is to keep your hands to yourself and not accept anything, unfortunately, there is nothing free in Los Angeles and accepting gifts from strangers is a recipe for trouble. Just say that you are not interested and thank them and keep walking, they will not bother you.
Another typical scam I saw was on Hollywood Boulevard. This one is not as much as a scam as a tourist trap. Once in Hollywood, everyone wants to spot celebrities and many businesses are trying to capitalize on it. There is at least a hundred of tour salesmen walking around in Hollywood trying to offer you the best deal to see as many celebrities as humanly possible while they are at home living their lives. The problem with this is, you will not see any celebrities and the houses they are showing you are most likely not of famous people. Stay clear from these. Ask your hotel/hostel about tours to visit L.A., it will be a better way to visit the city of angels and get some fun facts about it. Do not hesitate to go to tourist centers as well, there are people volunteering their times to make sure you see the best attractions possible.
5. The Hollywood Sign Is Not As Easy to See As It Is Made To Be
Here is proof: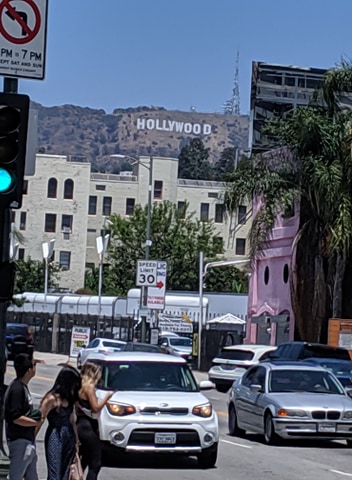 If, like me, you watched a lot of movies and follow pop culture, you probably have in your mind that as soon as you get out of LAX, you look to your right and there is the Hollywood sign. However, it is not as easy to spot as you might believe it. Funny story, I spent a good part of my week there trying to spot to sign from various locations other than the obvious Griffith observatory, but I could not seem to find it. Whether I was in Beverly Hills, Downtown L.A. or any place else, I was unable to find it. When I arrived in Hollywood and walked off the bus, I fell face to face with a giant python in the arms of a street performer. One thing you should know about me, is that I am terrified of snakes. I walked away as fast as I could not really caring about where I was heading. When the adrenaline rush wore off, I stopped to take a breath and looked to my left. There it was, the Hollywood sign that I had been looking everywhere for. The funny part is that I probably would not have found it if it were not for the snake incident when I arrived. If you do have the chance to head to Griffith Observatory, you will not need to go through a snake scare to see it.
In conclusion, my week in Los Angeles was amazing, I saw a lot of incredible things and it is really a bigger than life kind of environment. There is something for everyone, whether you are into the music or movie aspect, an art enthusiast or a beach bum, you will find something to make your time in L.A. an amazing time.